Wondering if anyone has a house cleaning service they can recommend. I'm in south melbourne beach around the publix area.
Used to have a great cleaner for years, but she became a real estate agent and moved on.
Since then, I've tried two services that were set up as a manager/owner sending out various girls.
Problem with this setup is the high turnover rate, and then there is no consistency, so you never really know who is going to be in your house and/or if they know what they are doing.
Just had to let CR Cleaning (Costa Rica Cleaning) go becuase their situation was really bad.
The owner was the only lady who spoke english (unfortunately, I don't speak Spanish)
and she was busy farming out teams all over town.. so her girls would be there unsupervised.
I only had a couple of simple requests/ changes to be made, but it was nearly impossible to communicate anything. I'd have to call the owner up after hours and try to explain to her any issues, but then it seemed like she never passed it on the girls, as they would just keep repeating the issue every time they came.
If I tried to talk to them directly, they would smile and nod and it was obvious they couldn't understand me.
Finally had to pull the plug after they apparently ran out of windex- then rifled through our cabinets and found "RAIN-X for automotive windows" and proceeded to use RAIN-X on all of our mirrors and chrome fixtures.. needless to say that was a mess.
Scheduled an appointment to discuss directly with the owner, and she no-showed on me, so in case you see them around town- DON'T BOTHER - plus they are very expensive compared to all past services we've used.
AAAANYWAY... I'm looking for a cleaning service / cleaning lady. Preferably an owner-operated type of setup so communication is not an issue.
THANKS for any help



-------------------------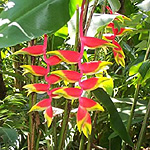 Exotica Tropicals
Plant NurseryBrevard Florida