Well, you can't do much better than the Grand Wialea. I was there in 2004 and it was very nice- had an excellent spa if I recall.
Only thing is there is no surf over there. So you will want a rental that can haul boards. I cant remember where I rented my board, but the place had a ton of surftechs, and they had my exact board there so it was a piece of cake. I rented for the week.
I surfed at Honoloa and it was very fun- just be careful the conditions arent past your abilities.. theres rocky areas and if you get caught inside it can get interesting. Nothing too crazy, but I suggest watching things from the cliff for awhile to make sure you know how it all works. That is also a good snorkeling spot when its flat.
I also surfed Hookipa when it wasnt too big- also saw it get huge there- gigantic windy beachbreak that I wasnt about to deal with.
There was another spot along the road somewhere that had little easy longboard waves- think it was Puamana Beach park that seaspray mentioned. When I was there it was pretty small- and shallow- but easy to deal with.
You will have a blast- you are staying in an awesome hotel- my only advice would be to be aware that the waves there might look the same size as a Florida wave, but they pack alot more punch- so if it looks big to you from the parking lot- it will seem *really* intense. Start on the small side and work up and you'll have a great time.
Oh by the way- the road to Hana was a very fun day trip- lots of cool little coves, black sand beaches, etc. I even surfed one of the small coves. It is a long ride though- I wished I had stayed in Hana instead of having to turn back around and drive back in the dark.


-------------------------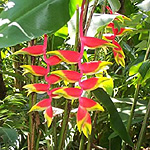 Exotica Tropicals
Plant NurseryBrevard Florida